After two years as Executive Director of the NBI Secretariat, Dr. John Rao Nyaoro, HSC (Kenya) has handed over the instruments of power to his successor, Mr. Innocent Ntabana (Rwanda). The official handover ceremony held on 9th September, 2016 was presided over by the chairperson of the Nile Technical Advisory Committee (Nile-TAC), and Director of Water Resources Management in Uganda's Ministry of Water Affairs, Ms. Florence Adongo.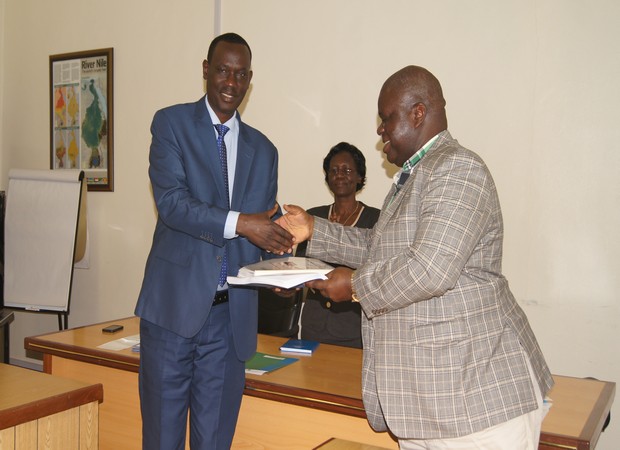 Mr. Ntabana was appointed Executive Director by the Nile Council of Ministers (Nile-COM), with the overall responsibility for leading NBI's continuous development, strategic planning, general management, coordination and control of all its operations. He becomes the 8th Executive Director since NBI was established in 1999. It is a tradition within the organisation to rotate this top most position at the Secretariat, amongst the Member States, every two years. The rotation follows the alphabetical order of the names of the countries.
Mr. Ntabana has joined the Secretariat at a time when the NBI is in the process of developing the next 10-year journey, embedded in the 2017 - 2027 Strategy, an important management tool for the organisation. "I wish to call for innovation in developing the new 10-year strategy in order to deliver benefits to our Member States and communities," he said in his acceptance speech at the NBI Secretariat.
Mr. Ntabana comes with 30 years of progressive experience in the management of programs and projects in rural development, especially in agriculture, water resource management and agri-business development with different international organizations (FAO, IFAD, AFDB, WFP, World Bank, UNDP, IFDC, etc). This is in addition to the various consultancies undertaken since 1998.
Most recently, he was working as a Strategic Adviser in value chain development at the Ministry of Agriculture and Animal Resources in Rwanda.
Mr. Ntabana is not entirely new to the organisation. He previously worked as Regional Project Manager for the Regional Agricultural Trade and Productivity Project from 2008 to 2012. During this period, he successfully completed the project inception phase and managed the entire implementation phase.
Mr. Ntabana is an Agronomist; he holds a BSC degree in Agricultural Engineering and a Master's Degree in Business Administration (MBA) from the Maastricht School of Management (Netherlands), with specialization in Project Management. He has also completed a number of courses in water resource management and climate change.