The Vice President of the United Republic of Tanzania, H.E Samia Suluhu Hassan, has noted that cooperation in managing the shared Nile Basin water resources is one of the key elements that need to be in place in order to achieve Sustainable Development Goal Number Six on Water.
She was speaking as Guest of Honour during the 2017 Regional Nile Day celebrations at the Julius Nyerere International Convention Centre in Dar-es-Salaam, Tanzania organised to commemorate the establishment of the Nile Basin Initiative (NBI) on 22nd February, 1999. The theme for the event was, 'Our Shared Nile - Source of Energy, Food and Water for All'.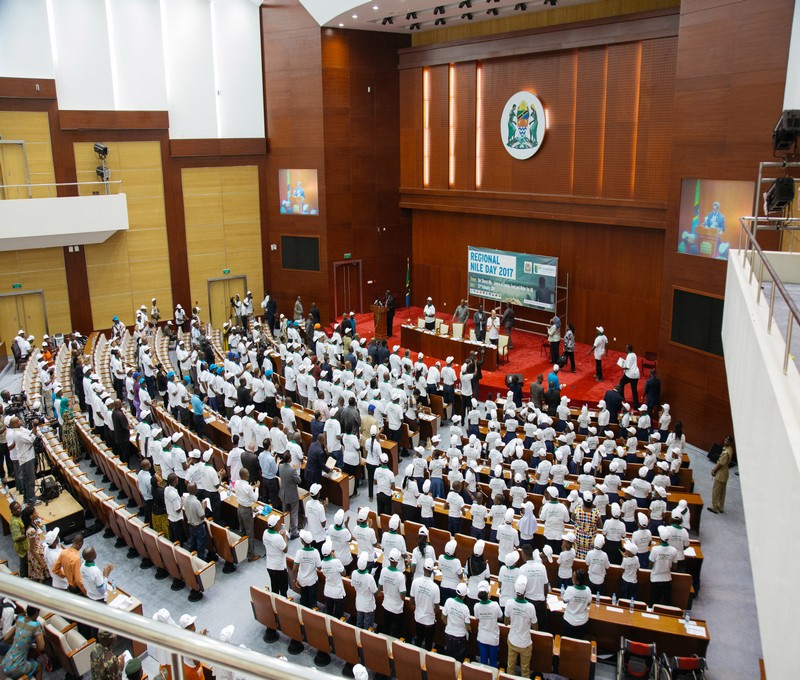 Her Excellency commended the choice of theme saying that it augured well with the current conditions in the Nile Basin countries.
"The theme provides us yet with another opportunity to highlight the importance of our River Nile in the quest for food, water and energy security in the Basin. This theme is timely and relevant given the prevailing drought conditions affecting most of the Nile Basin Countries where hydropower, food and water availability has been drastically affected. There is no doubt that collaboration and cooperation is the best approach for managing our precious water resources as we cope with the prevailing drought conditions."
She added that water, by its nature, is not bound by man-made boundaries, which should be reason for countries to cooperate and commended NBI's efforts in spearheading collaborative efforts of the Nile Basin countries.
The Chairman of the Nile Council of Ministers, Hon. Sam Cheptoris, also Uganda's Minister of Water and Environment, stated that before NBI's formation, riparian countries were pursuing social economic developments based on unilateral aspirations on shared water resources.
"Today, thanks to this regional platform, there is a paradigm shift to more holistic planning, with countries realising that there is more to gain in cooperative development than unilateral efforts."
Hon. Cheptoris called on the NBI Member States to work together towards sustainable basin-wide cooperation to ensure that the water, energy and food security that are inextricably linked are sustainably developed in the basin through the countries' deliberate collective actions.
On his part, the NBI Secretariat Executive Director, Eng. Innocent Ntabana, said that the close interrelationships between water, energy and food calls for "our balancing of the act of exploitation to ensure sustainability for our future generations".
Nile Day, which is held annually, provides an opportunity to increase awareness about the benefits of basin-wide Nile Cooperation in mutually looking after and utilising the shared Nile Basin water and related resources